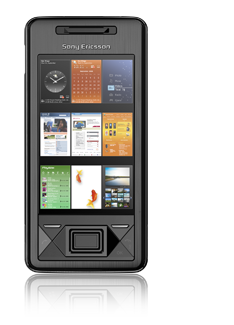 Xperia™ X-1
Life is mobile. Let everything that is important to you be with you all the time. The people in your life, the Internet, your music, pictures and video.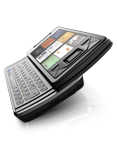 Distinctive design
Arc slider design, 3 inch Wide VGA display and premium metal body: with its sophisticated and distinctive design, Xperia™ X-1 redefines premiumness.
XPERIA™ panel interface
Enjoy access to different experiences - Web, multimedia, applications - from your desktop. Navigate with the tip of your finger. Configure and have your Xperia™ panels just the way you want them.
Multiple navigation
Xperia™ X-1 lets you interact via numerous intuitive ways. Touch, full QWERTY, 4-way key and optical joystick - you switch seamlessly between operation modes.
Blog your life
The easy way to share your life in pictures. Take or choose a photo, add a little text and publish it for friends and family to enjoy.
The Wi-Fi alternative
For a fast Internet connection in hotspots, your phone has Wi-Fi support.
Push email
Instant email on your mobile phone, just like on your home computer. Messages are sent directly to your phone as soon as they arrive.