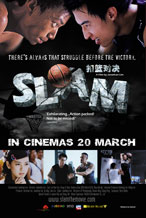 Director: Jonathan Lim
Genre:Drama/ Action
Language: Mandarin
Release Date:20 March 2008
Running Time:100 minutes
SLAM is set in the fast-paced, action-packed world of street basketball, in the rapidly modernizing city of Beijing, host of the 2008 Olympics. This story covers the strong universal themes of self-discovery, self-empowerment and the truth of never ever giving up. Featuring an all original soundtrack by platinum breaking Taiwan Hip Hop group Machi, and starring in his film acting debut Andrew Chou AKA: Machi Di Di.
"SLAM is undeniably one of the best sports movies made this year."
- MTV Asia Movie Review
"Exhilarating...action packed! Not to be missed."
- NBA China

_________________
Memorable "Dolce ViTa"